Since its founding, ekolive and its founders have been awarded several times by various institutions and have received prizes – including the ones below. Many more success stories can be found on our media review.
---
---
---
On April 13, 2023, ekolive was awarded first prize in the "ECO Startups" category as part of the ENVIRO award ATLAS 2023. With the ATLAS Prize, the VÚB Foundation wants to highlight the important efforts of those who have chosen to shoulder the burden of saving our planet.
---
On February 17, 2023, ekolive received the Merlin Innovation Award "Seal of Excellence".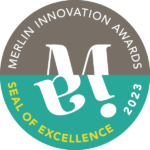 Innovation is one of the pillars of MERLIN, the European Commission's flagship project dedicated to transformative ecosystem restoration and establishing nature-based solutions to the urgent systemic transformation of our society. The MERLIN Innovation Awards initiative was created to recognize new, broadly applicable solutions for restoring the functions of freshwater ecosystems or to enable the financial benefit of these ecosystems.
---
On November 4, 2022, ekolive was awarded one of the two first prizes in the Grand Finale of the BASF Innovation Hub 2022. The BASF Innovation Hub 2022 is a regional pitch event hosted by the world's leading chemical company BASF, where innovators and start-ups from Central and Southeastern Europe pitch solutions to today's key environmental challenges. The theme of the competition this year was "Renewable Energies". The co-winner was Holloid.
---
On 6 September 2022, ekolive won the first edition of the Feike Sijbesma Sustainable Innovation Award: "With their technology, they contribute to 11 of the 17 Sustainable Development Goals, making them the inspiring sustainable innovators the jury was looking for." The award is named after Feike Sijbesma, former CEO of DSM, and is organised by University Fund Wageningen and Wageningen University & Research.
---
In April 2022, ekolive, on behalf of its founder Darina Štyriaková, was selected as one of 50 promising deep-tech start-ups from EU Member States and associated countries and has since received targeted funding and first-class coaching and mentoring under the Women TechEU pilot call. Women TechEU is funded under the European Innovation Ecosystems work programme of Horizon Europe, the EU's research and innovation programme.
---
On 23 April 2022, Darina Štyriaková was one of 15 personalities and 6 collectives to receive a ceremonial award for personalities of the Košice Self-Governing Region at a gala evening in the Košice State Theatre.
---
On 28 October 2021, ekolive was awarded 2nd prize among 14 startups in EIT Food's TeamUp competition. TeamUp is a programme that pairs technologists with business people to create impactful agri-food businesses.
---
In September 2021, ekolive was selected by StartUs insights among 144 startups and scale-ups analysed and awarded as one of the "5 Top Startups providing Bioremediation Solutions" worldwide.