ekofertile® biostimulants are produced by bioleaching sand (pH approx. 4.5) with natural probiotic bacteria such as Lactobacillus, Bifidobacterium and Lactococcus. These are plant growth promoting microorganisms that activate soil life – which in turn accelerates the conversion of organic matter for increased humus production, shortens the growing season, improves soil conditions for more root mass, increases yield through improved nutrient availability, and improves soil conditions for better crop quality.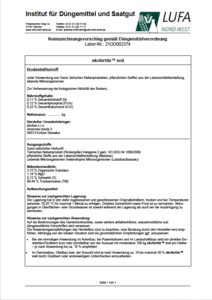 In the soil, our biostimulants strengthen or rehabilitate the microbiome. While conventional liquid strengthening agents can only be applied to a limited extent in the root area, ekofertile® soil is mixed into the topsoil and becomes part of the root area. The organic acids and humic acids contained are very stable and form clay-humus complexes in the soil that bind water and nutrients. They act against abiotic stress and water shortage.
The probiotic lactic acid bacteria contained in ekofertile® soil improve the soil, strengthen the immune system of the plants and their defenses against abiotic stress and potential diseases and promote plant growth. The use of ekofertile® soil contributes to sustainably maintaining the functionality and performance of the soil with reduced use of pesticides and fertilizers. In this way, considerable amounts of fertilizer can be saved and at the same time biodiversity and the soil can be protected in the long term.
Use about 100 kg ekofertile® soil per hectare for soil improvement; incorporation into the topsoil. Single application before sowing.
>>
Here

you can find our leaflet on
ekofertile®.
>> 
Here

you will find our information sheet on the subject of biostimulants.
>> Here is the research report "Plant growth trials using products derived from bioleaching" by ekolive of the Biorenewables Development Centre.